Centre of excellence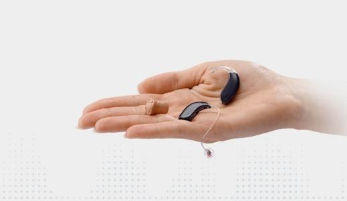 Hidden Hearing
Services
Free Hearing Test
Whilst it is true that a decline in hearing is natural as we age, it is also true that hearing is a vitally important sense that helps us stay connected to other people and the world. Loss of hearing not only isolates us but can affect our ability to work and socialise. For most people, finding it a bit harder to hear is just normal wear and tear and one more fact of life. One in five Irish people over the age of 50 have some difficulty hearing and that figure rises to almost one in two of those over 70.
Here at Hidden Hearing, we go the extra mile for our patients. You will receive your results during the appointment. We take the time to discuss your audiogram and individual hearing loss to help you explore the solutions that will best suit your needs and lifestyle.
To book your free hearing test, please phone 021 427 2565 or click here to book online
Earwax Removal
At Hidden Hearing, we use the latest technology with best practice in ear irrigation and micro-suction, as appropriate.
For most of us, noticing a change in our hearing can be concerning and at the very least annoying. In many cases, the issue will not be hearing loss related, but simply a build-up of too much earwax, and if left untreated your hearing could suffer. It's actually good for your ears, helping to keep the skin healthy and helping prevent infection at the same time. Some people suffer from excessive earwax and this can be managed by use of drops, micro-suction or irrigation. Wax can cause hearing loss and it can interfere with a hearing test or the use of a hearing aid.
Your wax consultation fee of €70 covers the discussion, assessment by screening, removal of any wax (whether present or not), video otoscopy and a general ear health check-up.
To book in please phone 021 427 2565 or click here to book online.
Hearing Aids
At Hidden Hearing, we offer only the best digital hearing aids and accessories. We have all types of hearing aids from a variety of top hearing aid brands, including invisible hearing aids.
Hidden Hearing Benefits
90-day money back guarantee
We provide a 90-day money-back guarantee with no hidden costs or charges if you decide you are not satisfied. Even when we test, prescribe and have the hearing aid made cosmetically for you, we cover these charges, should you wish to give it back to us within 90 days.
4-year warranty with all hearing aids
We have a 4-year warranty with all our hearing aids. The manufacturer of the hearing aids gives us 2 years' product guarantee and we add another 2 years for peace of mind.
Dedicated Customer Service helpline
Hidden Hearing provide a free dedicated customer service helpline - 1800 66 77 11.
Free batteries for any hearing aid
Some hearing aids run off tiny cell batteries which you can buy from your hearing aid retailer. Hidden Hearing offers a 'free batteries for life' benefit. We also post your batteries to you free of charge for your convenience. To order batteries, please call 1800 66 77 11.
Free 6-monthly check-up
We offer a 6-monthly check-up for the life of the hearing aids. Should you need to have them adjusted or checked anytime in one of our clinics, it's completely free of charge.
Free aftercare service
We provide a lifetime aftercare service free of charge. This comprehensive free service programme ensures that your hearing device continues to give you the best possible performance. We also offer free software upgrades. All service appointments are also free.
0% Finance
We offer a 0% finance option on the purchase of your hearing aids. This means we will spread the cost of your hearing aids over 12 months in 12 instalments.