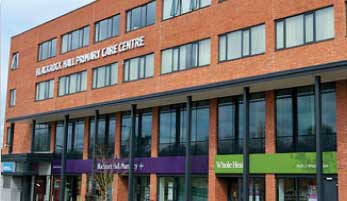 About Us
Blackrock Hall Primary Care Centre is the first primary care centre in Cork, and the largest primary care centre in Ireland.
Located in Blackrock, Cork, the primary care centre opened in February 2010.
Based at the Primary Care Centre are ten GPs and the Primary Care Team.The GP practices are independently owned, by the GPs themselves, who have been serving the local Cork area for many years. Details of the GP practices can be seen under the tabs at the top of this page.
The Primary Care Team is made up of practitioners in areas like Counselling & Psychology, Dentistry, Audiology, Pharmacy & Optical.
We all work together to ensure the best possible healthcare outcomes for our clients, at the lowest possible costs. As part of a team of healthcare professionals we can facilitate the greatest possible opportunity for public access to local healthcare services. This is the natural point of entry to your network of care.
In our primary care centre we have created a welcoming environment that provides opportunities for advice, support and access to products and services that assist the achievement and maintenance of optimum health and well-being.