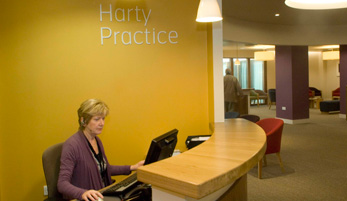 Our GP Practices
Harty Practice
Tel: (021) 423 1133
GP's
Dr Paul Harty,
MB, MICGP
Dr Jim Harty,
MB, MICGP
Practice Nurse
Trish O'Connor,
RGN, BSc, HDip (Health & Safety)
Opening Hours
Monday - Friday, By appointment 9am - 6pm
Walk-ins for registered patients from 11am - 12.15pm
Note: priority is given to appointments
If patients wish to see a specific Doctor, it is necessary to make an appointment.
General practice provides a wide range of services. The following list provides only a very small sample of the services provided at the Harty Practice.
Acute medical services
Blood screening
Asthma & diabetic care
Chronic disease management
Sports medicine
Mother & antenatal care
Minor surgery and cryotherapy
Women's health including cervical screening under free cervical screening programme
Family planning
Implanon insertion
Travel vaccine centre with Yellow Fever certification
24-hour ambulatory blood pressure monitors
Spirometry
Immunisations including influenza, pneumococcal and childhood immunisations
Venesection for Haemochromatosis
Medico-legal consultations and reports
Nursing Services
Phlebotomy
Immunisation programmes including childhood immunisations, influenza and pneumococcal vaccinations
Diabetic care and education
Wound management and dressings
Women's health including cervical screening
ECGs
24-hour ambulatory blood pressure monitor
Blood pressure monitoring
Cryotherapy
Ear care